PVA Pet Towel
Product No.:PT-03
Size:43X66cm,32x43cm
Mateiral:PVA Chamois
Color:Red orange blue purple Green etc
Packing:Clear Opp Bag inside Round Box Outside
PVA Pet Towel

Specifications PVA chamois Towel
1. soft smooth
2. quickly dry
3. super absorbent
4. cool feeling when put on neck and shouldler
Popular newest multifunctional PVA chamois towel Feature
1. Soft and smooth feeling.
2. Durable and machine washable.
3. Efficiently remove water and sweat.
4. Cooling function makes your summer easy.
5. Wipe without leaving water marks and lint free.
6. Eco-friendly PVA material, special anti-bacterial and mould proof treatment.
7. Powerful absorbency, it could absorb more than 10 times liquid of its own weight.
8. Hardening when dry to restrain the bacteria growing after use, while softening by dipping into water for 5-10 seconds when reuse, easy to fold and carry.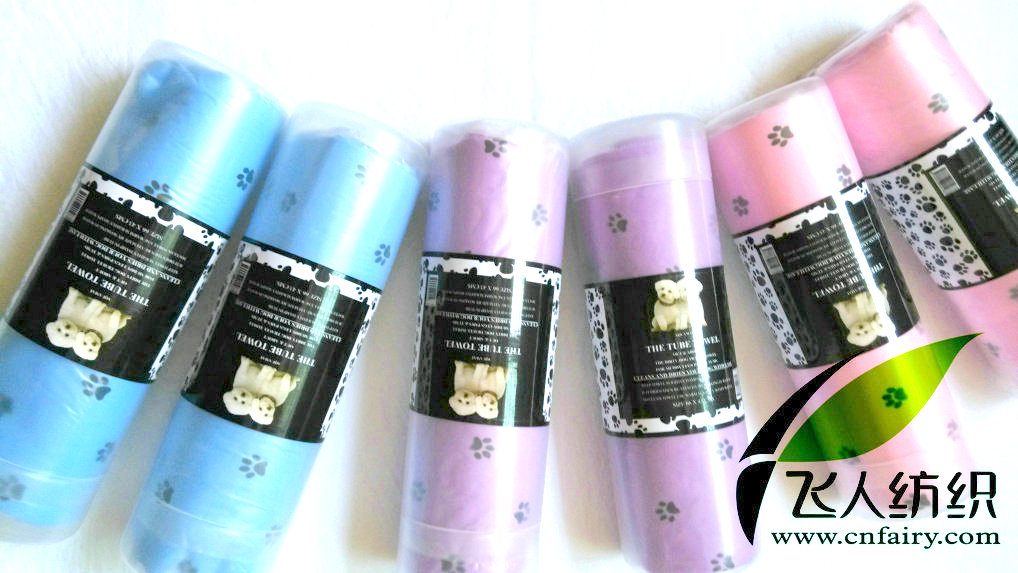 Product Application
1. Main functions: swimming towel, sport towel, hair drying towel, face towel.
2. Other functions: car wash towel, pet towel, household cleaning cloth, screen towel.
1.Main Material
Eco-friendly PVA, Edible Starch, Polyester Yarn
2. Color
blue, pink, light green, yellow, white, purple, grey, orange
Customized color available according to Pantone.
3. Package
1). polybag packing
2). pp tube: D-type, Square type, Oval type, Hooked D-type cylinder
4. Pattern
Flat surface and Dot-embossed on one side
5. Logo
Silk printing logo or Heat debossed logo on the towel
6.Size:85x34x0.2cm,80x34x0.2m,85x17x0.2cm,80x10x0.2cm, 75x34x0.2cm, 66x43x0.2cm, 43x32x0.2cm, 32x21x0.2cm(Thickness Error Arrange: ±0.02cm).
1.Q: How to use PVA chamois towel?
A: 1). Please wash in water for 10 seconds to remove humectants when first use.
2). The towel becomes a hard lump when dry, please soak in water for 5-10 seconds to soften it when reuse.
3). Please soak the towel under 70°C water.
2.Q: How to keep it?
A: Please dry by airing or put into the tube for a long time nonuse.
3.Q: Does the color fade? Why?
A: Color fades a little for the reason of dyeing when first or second use.
4.Q: What about the life expectance of the towel?
A: Normally, at least 6 months (also depends on using frequency).
5.Q: How long for a customized sample?
A: customized color towel: 15-20days;
customized logo sample: 7-10days.
Contact Us
Name: Miss Fairy
Tel: +86-579-85316662
Fax: +86-579-85703221
Mobile: +86-13375795234
E-mail: info@cnfairy.com
E-mail: order@cnfairy.com
Skype: Jimguo1982
QQ: 526069758
WeChat: 13777922263
Whatsapp: 13777900663
Add: No83, Dongqing Road, Heyetang Industral park, Yiwu, Zhejiang, China.322000