Dog Towels Gifts
Product No.:PT-04
Size:30X30cm,40x40cm
Mateiral:Microfiber fabric
Color:Red orange blue purple Green Yellow etc
Packing:Gifts Box Per Unit
Dog Towels Gifts
--Pet Towel Treat,
--Lovely modelling,Elegant packing
--Restaurant decoration, the wedding gifts, festival gifts...
--Design original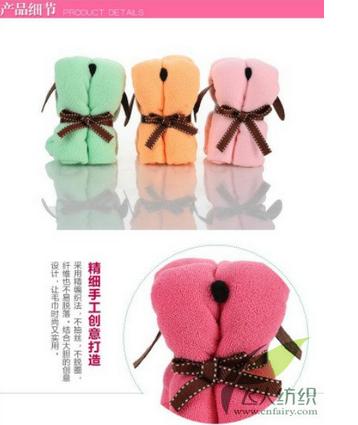 Loyalty is a kind of attitude, a kind of quality, a kind of charm; admire love loyalty, appreciate the loyalty of Career , and family loyalty, we never know what will happen in the future ,But, we can sure that, in the future any time, cute puppy, and cute puppy towel, Fairy textile co.,ltd is always in the most loyal attitude to accompany you around!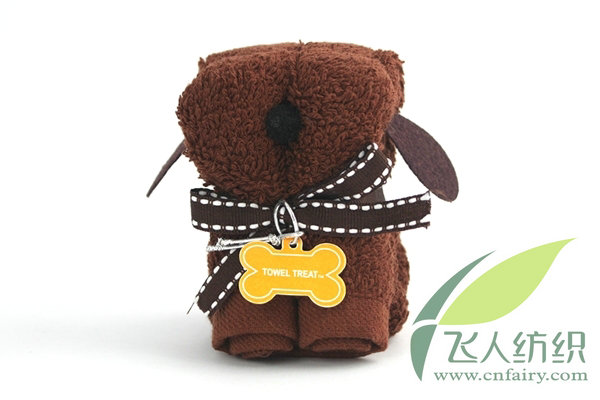 Widely used ;
Lovely dog towel, in addition to suitable for online shops, supermarkets, wholesale, and the same time, suitable for high-end restaurant decoration, the wedding gifts, festival gifts,
business promotion gifts and so on
It is the perfect combination of beautiful, practical, interesting, sex.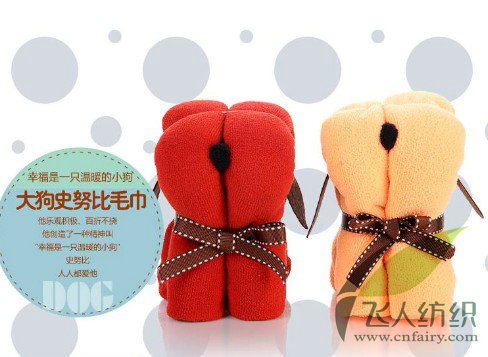 Design original
Lovely and honest modelling, detailed edge, non-woven ears, and lovely nose, delicate tie, looks beautiful and fashionable, different size, give you different feelings!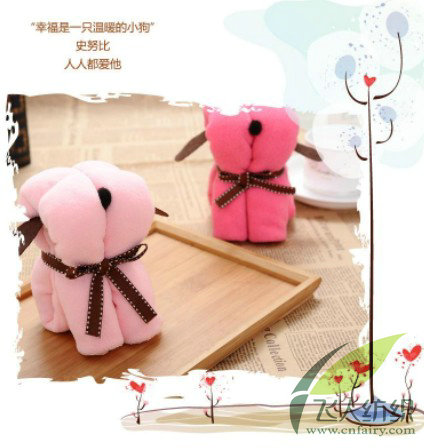 High quality material
Comfortable cotton, strong water absorption , soft and comfortable,long time use, thoroughly remove dirt from the pores, cleanning and healthy.Fairy textile company work for noble familly.
Nano fiber: wear-resisting durable, soft and comfortable, super absorbent,
Bamboo fiber, antimicrobial, environmental protection, healthy and cleaning;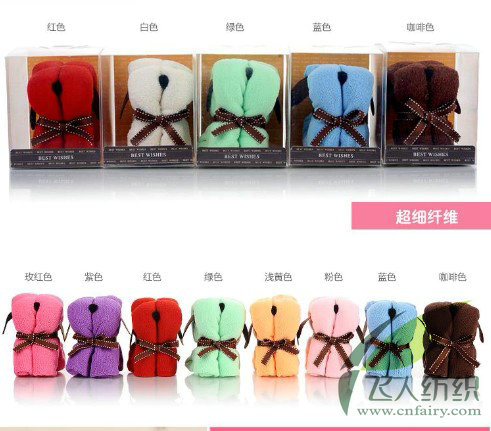 Elegant packing
Thick OPP bag design, beautiful and in a good taste, clear PVC box, fashion and high quality feeling!
Contact Us
Name: Miss Fairy
Tel: +86-579-85316662
Fax: +86-579-85703221
Mobile: +86-13375795234
E-mail: info@cnfairy.com
E-mail: order@cnfairy.com
Skype: Jimguo1982
QQ: 526069758
WeChat: 13777922263
Whatsapp: 13777900663
Add: No83, Dongqing Road, Heyetang Industral park, Yiwu, Zhejiang, China.322000